ProChart Pattern Recognition (PPR)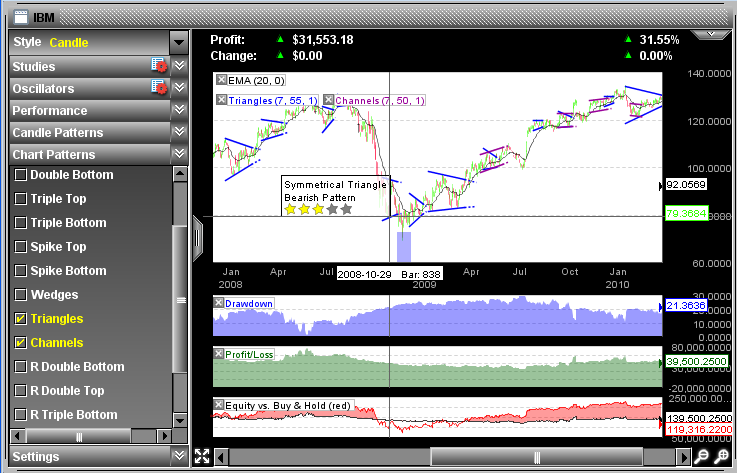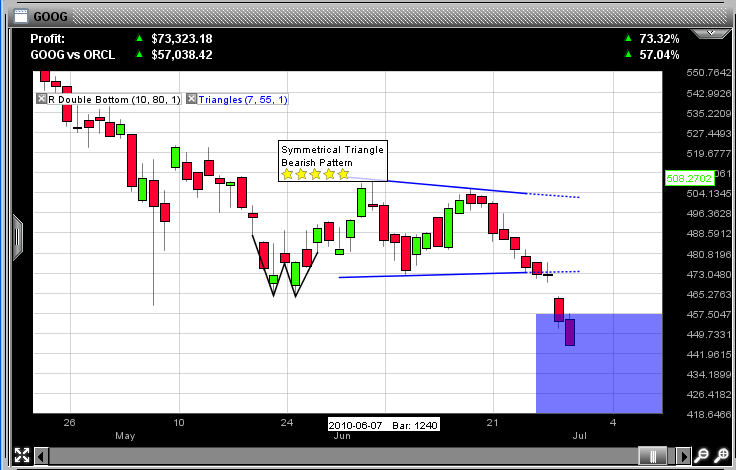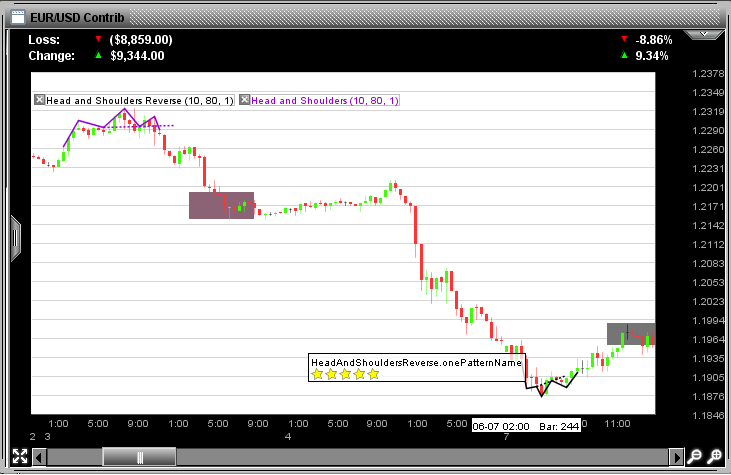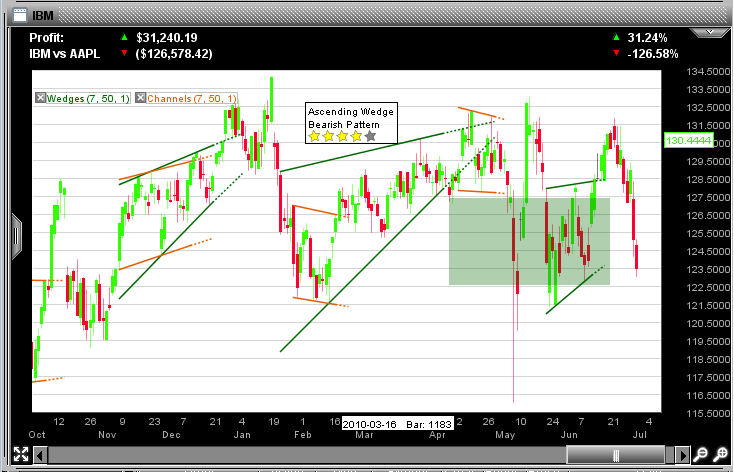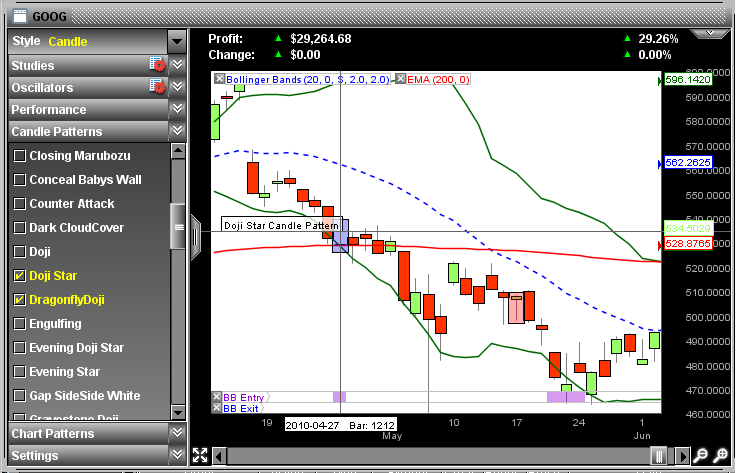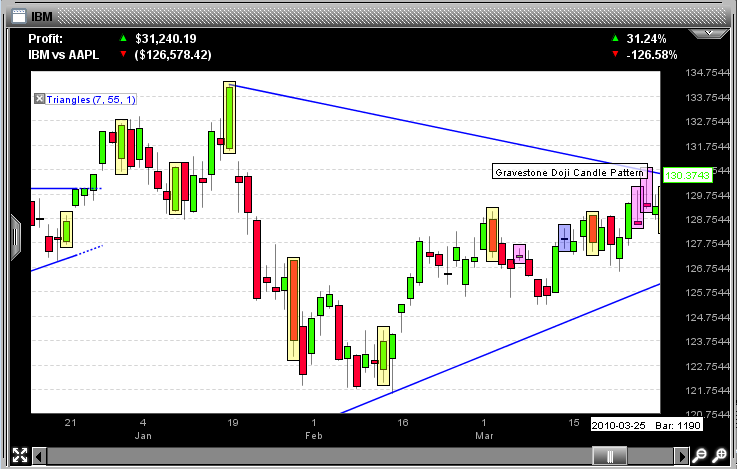 Chart Pattern - I'll know it when I see it!
Chart patterns are an important component in a trader's arsenal of technical analysis tools. Patterns themselves reflect behavioral patterns or more specifically, patterned trading behavior that has been studied and used in one form or another since the 1930's, perhaps earlier.
Pattern recognition is fairly subjective and while there is clearly a consensus among experts as to what constitutes a pattern, an ascending triangle or a head and shoulders, for example, patterns occur over different time intervals and evolve, passing through different "states", such as an "emerging" pattern or "completed" pattern. In fact, a pattern can begin as one type, evolve and morph into another type; a wedge pattern may turn in to a symmetrical triangle. Emerging patterns either materialize as a completed pattern, and a possible trade opportunity, or merely dissolve into random price action.
The alchemy of pattern recognition
ProChart Pattern Recognition (PPR) uses proprietary algorithms and statistical methods to automate the process an expert would use to identify patterns. PPR currently identifies all popular pattern types, including head and shoulders (top and bottom), double and triple tops and bottoms, wedges, channels, triangles (symmetrical, ascending, descending), and more.
Beyond pattern recognition, PPR uses a variety of criteria, such as price action context (incoming trend), number of touch points, strength of breakout, technical indicators, and other variables to assess a pattern's strength. Each pattern is evaluated and a relative strength ranking assigned. Although a 5 star system is used in the examples displayed here, there are a variety of options available for evaluating and ranking patterns.
Targets, testing and trading
As patterns are completed the PPR software also computes a price target displayed as a shaded rectangular region. Price targets project a range in terms of price (vertical direction) and time (horizontal direction).
Patterns can be scanned and displayed in real-time, giving users the inside track on possible trading opportunities. In addition to real-time scans, patterns can be scanned over historical data, using virtually any time frame and bar interval. Historical patterns come complete with the same information as real-time patterns; pattern description, strength ranking and price target. Historical patterns provide performance information in the context of an instrument's bigger (price action) picture. Knowing how a pattern has performed historically is significant, it gives users more information. More information means users are better equipped to make trading decisions when the opportunity presents itself.
The heavy lifting - servers, clients and the rest
ProChart's Pattern Recognition software runs on a server where real-time scans are performed and delivered to users (subscribers) through any number of delivery mechanisms; reports, alerts, email, mobile etc. The management of pattern selection, scan interval, instrument selection, delivery and ultimately trade options can be handled through a separate UI, designed to meet your needs, and/or integrated seamlessly into your existing platform.
Pattern scans (historical and real-time) are seamlessly supported by VE's charting product, ProChart, however, integration with other charting products is possible.
Chart Patterns
Head and Shoulders - Top & Bottom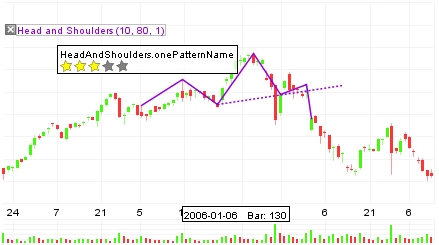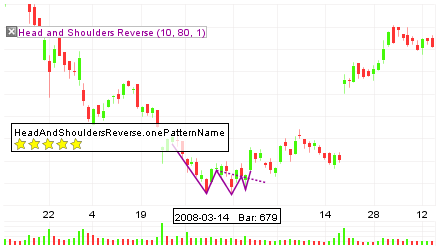 The Head and Shoulder "top" pattern displays two shoulders, at approximately equal price levels and a head (top) higher than the shoulders. A line connecting the armpits (the trough of each shoulder), sometimes referred to as the neckline, represents the breakout line.
The Head and Shoulders pattern is characterized by successive attempts to continue higher (the two shoulders and the head) only to retreat in each case (the neckline) and eventually succumb to downward pressure as signaled by a price breaking below the extended neckline. This breakout is interpreted as the beginning of a trend reversal (down trend in the case of a "top"). The Head and Shoulders "bottom" is the counterpart to the Head and Shoulders "top".
Pullbacks; a breakout (up or down) and then a temporary reversal to the breakout price, followed by a decline (top) or rise (bottom) in the direction of the original breakout are common.
An upward trend in volume suggests better post breakout performance.
Double Top & Bottom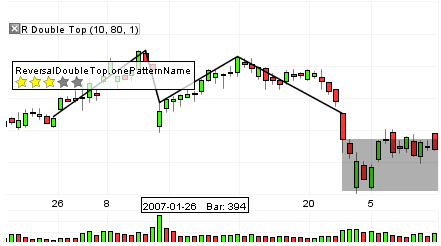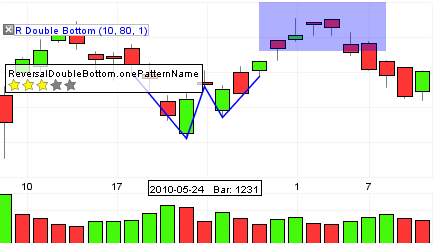 The Double Top pattern indicates a reversal of an uptrend. This pattern is characterized by two distinct highs of approximately the same price level, separated by a pronounced low. In general, a longer time period between the two highs signals a more significant reversal. A breakout occurs when the price breaks through the lowest low (the middle trough). A Double Bottom is the bullish counterpart to the bearish top.
Look for volume to increase with each of the two tops but less volume on the second.
Triple Top & Bottom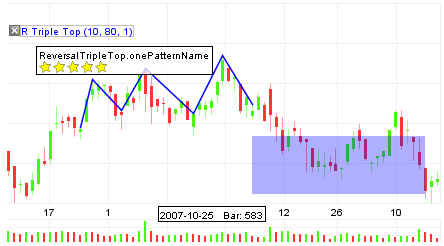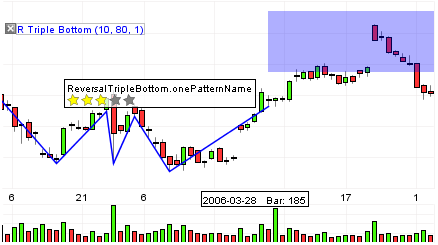 A Triple Bottom is a bullish reversal pattern indicating the end of a down trend and beginning of an uptrend. As with other reversal patterns this pattern is characterized by multiple attempts to continue a trend's momentum only to fail, retreat and try again; in the case of a Triple Top or Bottom, three times. Each of the three attempts to continue the trend should meet support (resistance) at approximately the same price level. A breakout occurs when the price breaks up through the pattern's highest high. A Triple Top is the Bottom's bearish counterpart.
Look for successively weaker volume levels with each low (bottom) and a pick up on the breakout.
Triangles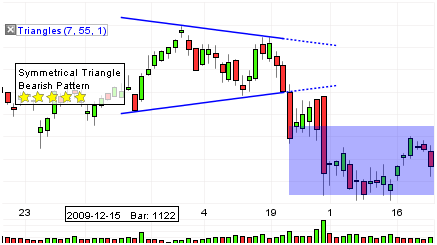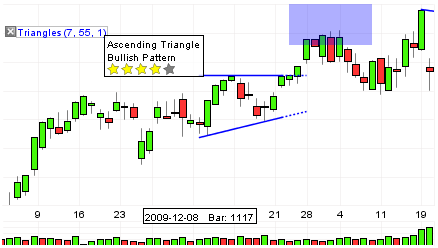 Triangles (Ascending, Descending, and Symmetrical) are frequently considered continuation patterns but they can also signal trend reversals. As a continuation pattern a triangle will emerge following a strong incoming trend, up or down, a period of sideways price consolidation (formation of the triangle pattern), and a breakout in the same direction as the incoming trend. The reversal form of the pattern exhibits the same incoming trend (up or down) and price consolidation but the breakout and subsequent trend are in the opposite direction as that of the incoming trend.
An Ascending triangle displays a horizontal resistance line and an upward sloping support line (higher lows pushing up against a price ceiling), a Descending triangle displays a downward sloping resistance line and a horizontal support line (lower highs, pushing down against a price floor), and a Symmetrical triangle displays two converging oblique lines squeezing both lower highs and higher lows together.
Volume will generally decrease as prices consolidate within the triangle's converging support and resistance trend lines. Ideally, you would like to see volume increase significantly on a breakout.
Wedges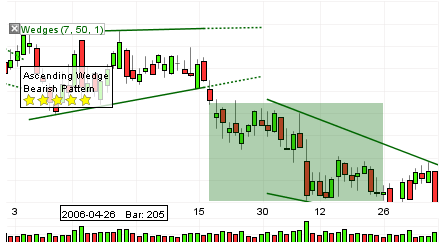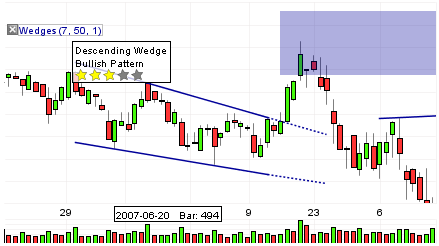 Wedges, like triangles are frequently thought of as a continuation pattern but wedges can also signal reversals. Wedges, unlike triangles, exhibit support and resistance lines sloping in the same direction, either up or down, and hence the two common types, Rising or Falling wedges. Wedges are characterized by steadily converging prices, lower lows and lower highs (Falling Wedge) or vice versa (Rising Wedge). As a continuation pattern, wedges are seen as moving against the prevailing longer term trend. For example a Rising Wedge signals a pause and price consolidation but with an upward formation in what is otherwise a longer term down trend.
Look for volume to diminish as the pattern forms but it should increase significantly on or around the breakout.
Channels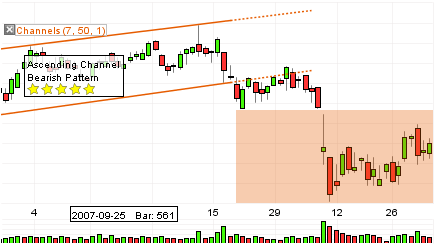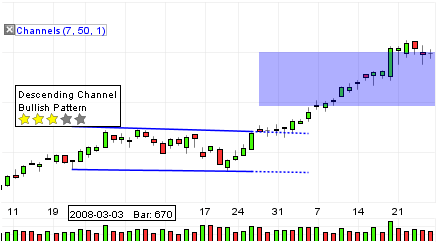 Channels are another continuation pattern and are characterized by parallel support and resistance lines. Channels with a positive slope are bullish, while channels with a negative slope bearish.
Channels can be used to trade in a variety of ways. A position trader may use a positive slope channel to buy as price reaches the support line and add to the position as future prices bounce off support. A sell signal would occur when price breaches the support line. A negative sloping channel could be used to accumulate a short position, in a similar fashion. Channels can also be used as a breakout signal but generally in combination with other technical indicators.
Candle Patterns
Doji Star, Ladder Bottom, Hikkake and more…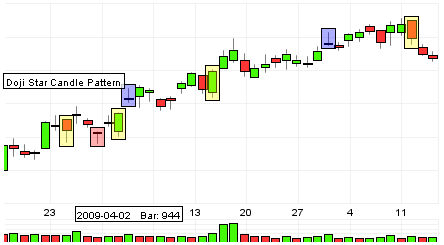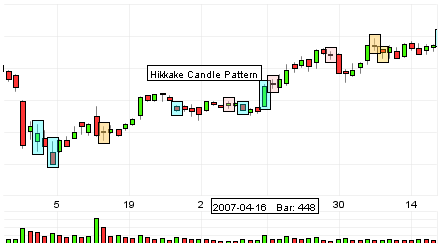 In addition to chart patterns, ProChart Pattern Recognition software includes over 60 candle patterns. As with chart patterns, candle patterns are frequently considered as continuation or reversal patterns. Candle patterns are generally used as short-term indicators with some form of confirmation, whether other candle patterns or other technical indicators. There are a number of good reference books describing candle patterns, their reliability, and trading ideas.